Skin Cancer is the #1 most common cancer in the US

Skin Cancer is the #2 killer of women

1 person dies every 57 minutes from skin cancer
And tanning beds are the worst. In July 2009, the World Health Organization (WHO) added ultraviolet (UV) radiation from tanning machines to its list of the "most dangerous cancer-causing radiation" and they have now even been outlawed in many states and countries.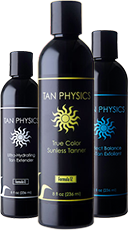 After years of research and product development and tweaking we present to you Tan Physics True Color. Tan Physics is a revolutionary Sunless tanner/skin care hybrid that combines natural tanners with cutting edge anti-aging skin care ingredients in one formula. It delivers a realistic, beautiful, streak free tan every time and leaves your skin looking younger and more radiant than ever.
We utilized only the highest quality tanning ingredients and exclusive anti aging moisturizers to give you a product that exists nowhere else on the market. This is the future of skin care and tanning combined into one and we have now made it available to the public.
Tan Physics was designed for today's busy woman who is beauty and health conscience and wants to look and feel her best without spending a lot of time and money doing it. Tan Physics is the perfect tanning skin care system that will change forever the way you treat your skin and yourself …..because you deserve it.
Tan Physics, it's more than a product, it's a way of life.